Hyundai Creta: Air Conditioning System / Auto Defogging Sensor
Description and operation
The auto defogging sensor is installed on the front window glass. The sensor judges and sends signal if moisture occurs to blow out wind for defogging. The air conditioner control module receives signal from the sensor and restrains moisture and eliminate defog by controlling the intake actuator, A/C, auto defogging actuator, blower motor rpm, and mode actuator.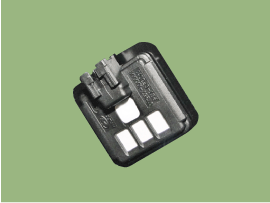 Repair procedures
1.

The heating, ventilation and air conditioning can be quickly diagnosed failed parts with vehicle diagnostic system (GDS).

※ The diagnostic system (GDS) provides the following information.

(1) Self diagnosis : Checking the failure code (DTC) and display.

(2) Current data : Checking the system input/output data state.

(3) Actuation test : Checking the system operation condition.

(4) Additional function : Other controlling such as he system option and zero point adjustment.
| | |
| --- | --- |
| 2. | Select the 'Car model' and the system to be checked in order to check the vehicle with the tester. |
3.

Select the 'Current data' menu to search the current state of the input/output data.

The input/output data for the sensors corresponding to the Auto Defogging Sensor can be checked.
| | |
| --- | --- |
| 1. | Disconnect the negative (-) battery terminal. |
| | |
| --- | --- |
| 2. | Remove the auto logging cover (A). |
| | |
| --- | --- |
| 3. | Disconnect the connector (A) and then remove the auto logging sensor (B). |
| | |
| --- | --- |
| 4. | Install in the reverse order of removal. |