Select the bearing by using selection table.
Letters have been stamped on the side of block as a mark for the size of each of the 5 main journal bores.
Use them, and the numbers or letters stamped on the crank (marks for main journal size), to choose the correct bearings.
Crankshaft Main Bearing Selection Table
Crankshaft main bearing

Cylinder block crankshaft journal bore mark

a (A) or 1

b (B) or 2

c (C) or 3

Crankshaft main journal mark

I (1)

E (Red or Yellow)

D (Green)

C (None)

II (2)

D (Green)

C (None)

B (Black)

III (3)

C (None)

B (Black)

A (Blue)

Discrimination Of Cylinder Block Crankshaft Journal Bore
Class

Mark

Cylinder block journal bore inner diameter

a

A or 1

52.000 ~ 52.006 mm
(2.0472 ~ 2.0475 in)

b

B or 2

52.006 ~ 52.012 mm
(2.0475 ~ 2.0477 in)

c

C or 3

52.012 ~ 52.018 mm
(2.0477 ~ 2.0479 in)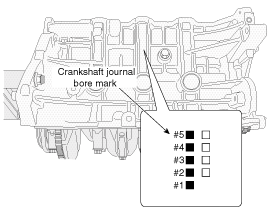 Discrimination Of Crankshaft Main Journal
Class

Mark

Crankshaft main journal outer diameter

I

1

47.954 ~ 47.960 mm
(1.8879 ~ 1.8882 in)

II

2

47.948 ~ 47.954 mm
(1.8877 ~ 1.8879 in)

III

3

47.942 ~ 47.948 mm
(1.8875 ~ 1.8877 in)

[Type A]
Top surface stamp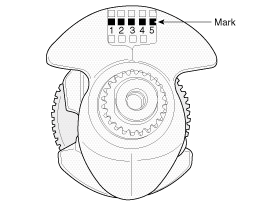 [Type B]
Bottom surface stamp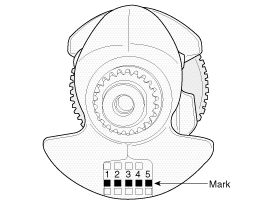 Discrimination Of Crankshaft Main Bearing
Class

Color

Crankshaft main bearing thickness

A

Blue

2.026 ~ 2.029 mm
(0.0798 ~ 0.0799 in)

B

Black

2.023 ~ 2.026 mm
(0.0796 ~ 0.0798 in)

C

None

2.020 ~ 2.023 mm
(0.0795 ~ 0.0796 in)

D

Green

2.017 ~ 2.020 mm
(0.0794 ~ 0.0795 in)

E

Red or Yellow

2.014 ~ 2.017 mm
(0.0793 ~ 0.0794 in)