Hyundai Creta: Instrument cluster / LCD display
LCD display control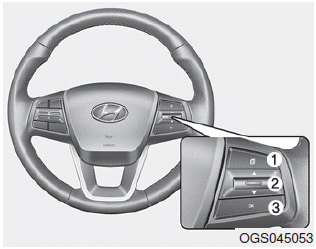 The LCD display modes can be changed by using the control switches.
(1)

/

: Changing LCD modes
(2) ▲, ▼ : Changing items for each LCD modes
(3) OK / RESET : Selecting or resetting items
LCD modes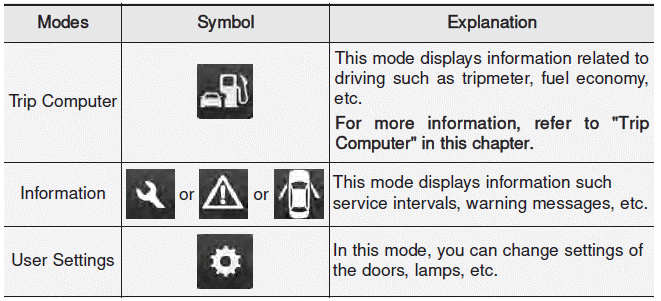 Cannot edit settings while driving
This warning message appears if you try to adjust the User Settings while driving.
For safety, change the User Settings after parking the vehicle and engaging the parking brake (manual transaxle) or moving the shift lever to P (Park) position (automatic transaxle).
Trip computer mode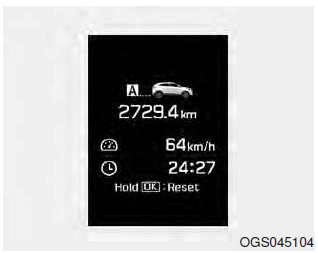 The trip computer mode displays information related to vehicle driving parameters including distance to empty, fuel economy, trip meter information and vehicle speed.
For more details, refer to "Trip Computer" in this chapter.
Information mode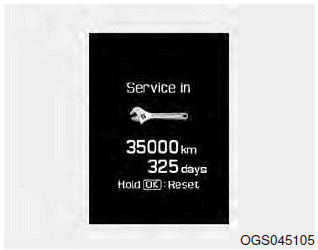 Service in
It calculates and displays when you need a scheduled maintenance service (mileage or days).
If the remaining mileage or time reaches 1,500 km (900 miles) or 30 days, "Service in" message is displayed for several seconds each time you set the ignition switch to the ON position.
For the setting of the service interval, refer to "User Settings Mode" of the LCD display.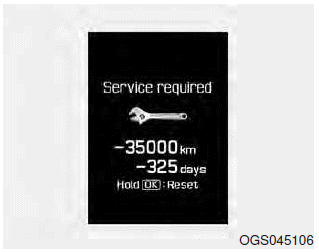 Service required
If you exceed the specified service interval, a message indicating, "Service required" will be displayed each time you turn ON the vehicle.
To reset the service interval, press the OK button for more than 1 second.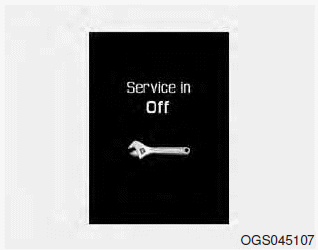 Service in OFF
If the service interval is not set, "Service in Off" message is displayed on the LCD display.
If one of followings occurs, warning messages will be displayed on the information mode for several seconds.
- Low fuel etc.
User settings mode
In this mode, you can change setting of the instrument cluster, doors, lamps, and so on.
D o o r

O t h e r F e a t u r e s

L i g h t s
C o n v e n i e n c e

S e r v i c e I n t e r v a l